Although I have found my personal dream horse in the Rocky Mountain Horse breed, I still have great appreciation for a more athletic, reactive horse with speed in gait.. preferably spotted! It reminds me of the fun I had with my Icelandic horses and their "Renntölt". The rush of adrenaline one experiences at full speed, barely touching the ground, practically airborne, is exhilarating.
The Rocky Mountain Horse is the ideal trail partner for the family and if you like a laid back, tractable mount, the Rocky is the ideal horse for you. A more sport orientated rider might find their easy-going chilled disposition a bit boring.. For those thrill-seekers we breed a few Speedy babies a year!
Pied Piper's Adrenaline
SHOBA, Speed Racker
Born 2005 USA
Sire: Pied Piper
Color: bay tobiano
It was pure luck that we were able to purchase a quality speed racking mare with several World Grand Champion titles to her name.. she is one of the fastest spotted horses in the show scene, beating a world class stallion like Speck's Dangerous Copy who beat Falcon's Blue Ribbon! She has been clocked at 26 mph.. Her talent and athleticism are hard to find.
Her titles include:
– 2014 and 2016 World Grand Champion Spotted Speed Racking SSHBEA
Reserve Champion Spring Celebration
Very happy too that she was bred and checked in foal to the 2015 National 3 & 4 yo Champion, SHOBA "Who's Spotted Now?"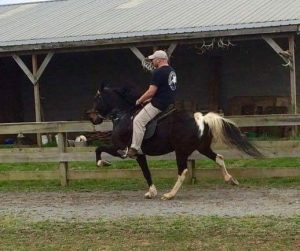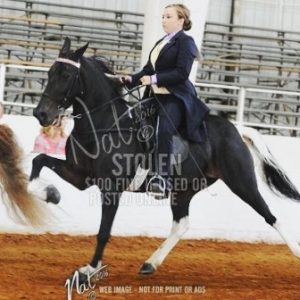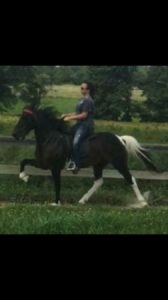 Snoopy's Angel
Spotted Saddle Horse, Racking Horse registry pending
Born 2015 Tennessee, USA
Sire: Bojangles Jr. Snoopy
Dam: Chip's Grand Lady
Color: bay tobiano
Sweety, as we call her, is a stunningly pretty and affectionate filly. We will start her under saddle this summer, and can't wait to see how she does. Should be a fast one!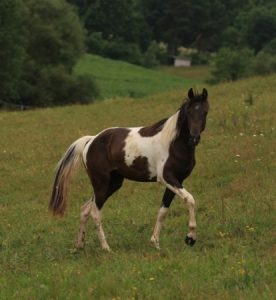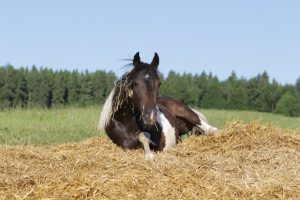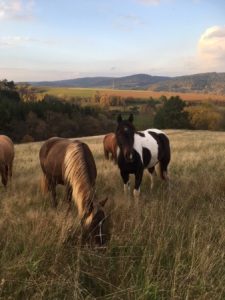 Rowdy's Cool Shea
Speed Racking filly
Born in 2016 USA
Sire: Rowdy Rawhide's Wiley (Speed Racking World Champion)
Dam: Diva Shea (by Cool Hand Luke)
Color: bay tobiano
This one was bred by Bobby and Jacob Parks and should make an excellent horse, her paternal brother being the legendary Falcons Blue Ribbon! She has several siblings in Israel that are extremely fast!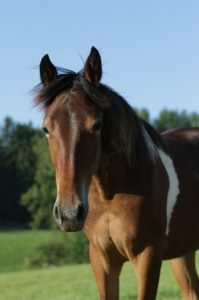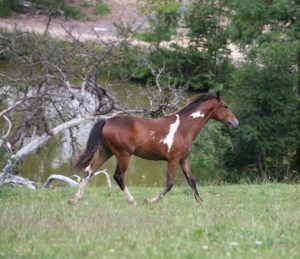 Speck of Frost
Racking Horse RHBAA
Born in 2017, USA
Sire: Speck's Haley (by Speck)
Dam: Flash's First Lady (by 5x Speed Racking WGC Choice's Flashy Cut)
Color: chestnut roan sabino
One fine Speed Racking filly with world class bloodlines.. she should have the potential to be extremely fast and still easy to ride. Granddad Speck was a 15 time Speed Racking World Champion. Daddy was clocked at 28mph and her mother at 24mph!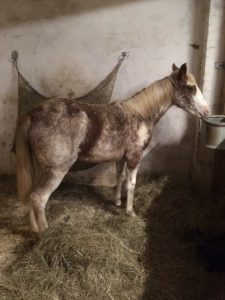 CD's Catch me if you can
Born in 2005 Kentucky, USA, Certified RMHA, Racking Horse
Sire: Choco Dock (RMHA International Grand Champion Under Saddle 1993+ 2000 and Conformation 1997, Sam Tuttle Memorial Award 1997)
Dam: Mays Gypsy
Full Pedigree
Color: classic champagne
14.3h (1.49m)
A small mare with a big heart, fearless and sweet, took care of kids on her back. A beautiful animated high-stepping gait always with a clear 4 beat. Typical for offspring of the great Choco Dock (one of the most legendary stallions in the breed!) is their presence and lovely head-set. She is impressive!