Frequently Asked Questions
Price Categories:

Cat A 4.500 - 7.500 EUR
Cat B 7.500 - 10.000 EUR
Cat C 10.000 - 12.500 EUR
Cat D 12.500 - 15.000 EUR
Cat E 15.000 - 17.500 EUR
Cat F 17.5oo EUR and more
These prices include German VAT, which is 19% currently. Please realize that if you are a professional you can buy horses tax-free! Members of non-EU countries can also buy tax-free!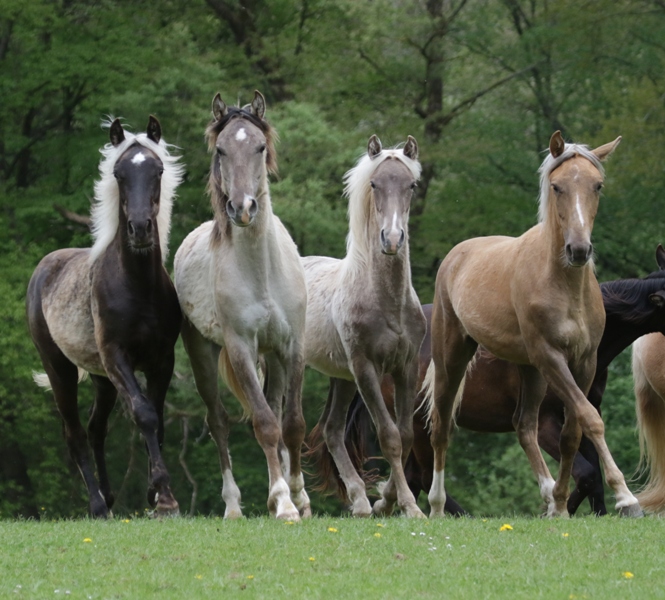 Mission Statement
It has always been my goal to produce the best possible RMH with the typical traits as described by the association. I was never in the breeding business for the money. I hoped to breed the ultimate recreational horse making its owner happy with a long life of health, good genes and a friendly disposition. I often bought the horse that was NOT for sale, just because I figured it must be the one I should use in a breeding program. 
Practically ALL my horses were imported from the USA, because the horses I wanted to have for my program were not for sale in Europe! Choosing horses that were successful in the Kentucky show scene was costly but worth it. They proved themselves with great competition in the show ring in the area they originally came from. Many National Champions were imported and passed on their genes to European offspring. It can be argued that I might have paid too much myself but it was the quality that counted and not a bargain deal. I believe that in the long run it is worthwhile to invest in the best of quality. And never forget: it costs the same amount of money to raise a lousy horse than to raise a good one!
A Few Numbers
We started breeding Rockies in 2011. A decade later, approximately 130 RMH foals will have been born with the MVM name.
In this past decade, 76 Rockies and 3 KMSH were imported from the US! Among them many National Champions I'd like to list here:
MX Wrangler, VBFs Heart Of Motion, Blue Mountain Spirit, For A Few Dollars More, HCRs Split Second, Classics Cha Cha Cha, Purdue's Not So Innocent, Stardusts Midnight Matinee, Nicks Nicole, Sheez Fit To Be Tied, Miss Indiana, CA Toco Dawn, Banjos JoAnna, South Forty Sweet Sienna, Dreamcatchers Best Kept Secret and last but not least the winner of the very prestigious Rea Swan Versatility Award, Hersheys Bit-o-Honey!
Other stallions imported that made their mark in Europe were MX Gabriel, GHS Held For Ransom, Rocky Vs Reb!