Rocky Mountain horses and Spotted Saddle /Mountain Horses for sale at Hof Hählgans, Germany.
We try to offer horses of all ages. Here is a list of our sales horses, but please don't hesitate to ask about horses that may not be on the list.. And don't forget to check our Foal Page!
MVM Son Of A Gun
RMH registered
Colt born 2017 in Germany
Sire: Blue Mountain Spirit
Dam: Kathy Blue
Color: possibly homozygous chocolate, possibly with cream gene
Full Pedigree
Definitely the most spirited, hot baby of the year.. lovely gaits, attitude to die for, makes Sonny as we call him a stallion prospect. Great horse for someone who likes showing. Just check out those old bloodlines..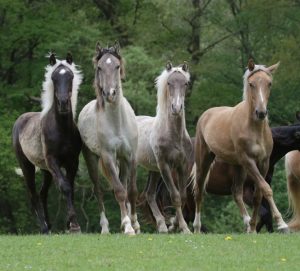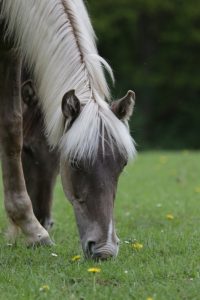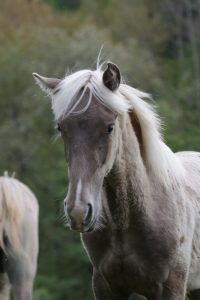 MVM Sundance Kid
RMH registered
Colt, born in 2017, Germany
Sire: MX Wrangler
Dam: McGuire's Misty
Color: palomino possibly with sooty gene
Full Pedigree
This is going to be a big guy.. Very sweet, lovely color!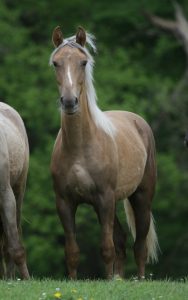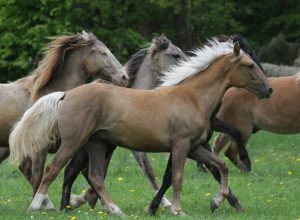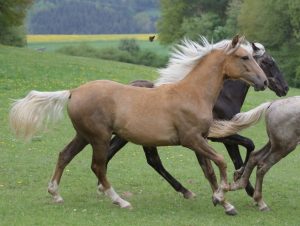 Snoopy's Angel
Spotted Saddle Horse, Racking Horse registry pending
Born 2015 Tennessee, USA
Sire: Bojangles Jr. Snoopy
Dam: Chip's Grand Lady
Color: bay tobiano
Sweety, as we call her, is a stunningly pretty and affectionate filly. We will start her under saddle this summer, and can't wait to see how she does. Should be a fast one!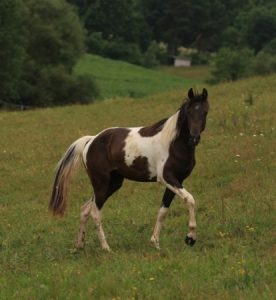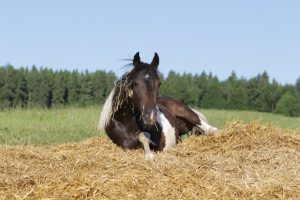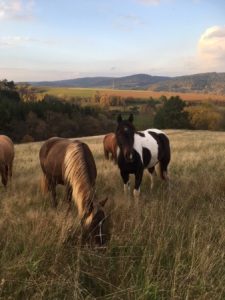 Rowdy's Cool Shea
Speed Racking filly
Born in 2016 USA
Sire: Rowdy Rawhide's Wiley (Speed Racking World Champion)
Dam: Diva Shea (by Cool Hand Luke)
Color: bay tobiano
This one was bred by Bobby and Jacob Parks and should make an excellent horse, her paternal brother being the legendary Falcons Blue Ribbon! She has several siblings in Israel that are extremely fast!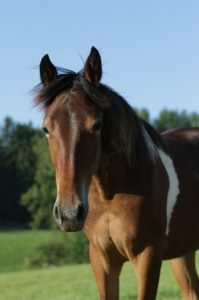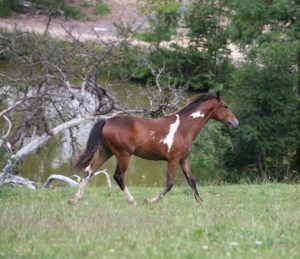 MVM Takes Two To Tango
Diamonds Gogo Girl x Bulletproof
Genetically confirmed homozygous (blue) roan colt, 3.03.2018
MVM Tiny Tiffany
I've Got It All x MX Wrangler
Perlino filly, 14.03.2018
MVM Take A Gamble
Dreamcatcher's Best Kept Secret x CF's Zorro
Silver grullo colt, 11.04.2018
MVM Tyrone
Stardusts Midnight Matinee x RVF's Risky Business
Black colt, 14.04.2018
MVM Touch Of Class
Angel Pride x Barbarossa
chocolate filly 4.05.2018